Philanthropist Funds New Chinese Scholarship Program
April 25th, 2013 by Jonathan Frankel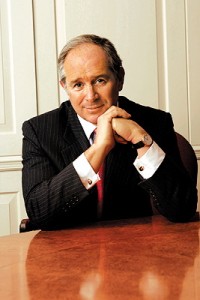 Stephen Schwarzman – chairman of the Blackstone Group, a U.S.-based private-equity company – believes that most Americans "know next to nothing about China." His new Chinese scholarship program, however, hopes to change that. The new program – which was endowed with a $100 million donation from Mr. Schwarzman's personal fortune and should be matched by an additional $200 million from outside sources in the coming months and years – will enable students to pursue a one-year master's degree at the Beijing-based Tsinghua University. The university, which is the alma mater of many of China's top leaders and among China's most prestigious, will offer graduate-level programs in public policy, economics, business, international relations, and engineering as early as 2016.
In much the same way the Rhodes Scholarship strengthened ties across the Atlantic in the 20th century by sending US students to study at Oxford, this new Chinese scholarship hopes to inspire trans-Pacific understanding in the 21st century by enabling 200 students to experience Chinese culture first-hand. In a nod to the rising might of the developing world, though fully 45 percent of the spots participants will be drawn from the United States and 20 percent from China itself, the rest will be open to candidates from other parts of the world. Created in partnership with Tsinghua University, this new Chinese scholarship program will not only provide full scholarships to visiting students but also fund the creation of a building to house the program and be jointly managed by the Schwarzman Education Foundation and Tsinghua University itself. If all goes according to plan it will be the biggest foreign-backed charitable donation in the history of the Middle Kingdom. Such a gift, though large, is nevertheless priceless. After all, if knowledge is power, then his new scholarship program aims to empower more students than ever to know about the rising economic power that is China.
*Photo of Stephen Schwarzman courtesy of Dealbreaker.com