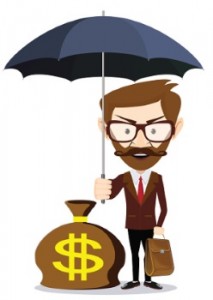 Once you have arrived to the US and begin settling into your new college environment, you may start to notice that most people do not carry around much cash. Almost everywhere, including parking meters, allow for the option of paying with a debit or credit card. For those international students who plan on staying a year or more, opening up a US bank account will make almost every aspect of your financial life a little bit easier.
Why Open Up an Account?
In the US, the norm has shifted from carrying a wallet full of bills to a wallet full of cards. However, having a bank account won't just be convenient when it comes to your personal spending, but can be useful in paying for bills and cashing checks.
Rent & Utilities: Although most students live on campus their first year, many tend to move  off campus for their second. Off-campus housing means that you´ll be renting an apartment from a private owner that may have no affiliation with your university. Many off-campus residencies provide online portals for their tenants to be able to pay rent via the internet. Many gas and electric companies also utilize an online payment system. By having a bank account you'll be able to make all of these payments quickly and easily.
Cashing Loan Checks: Whether you will be receiving extra money from financial aid or you will have leftover money from your student loan, you will most likely receive it in the form of a check. With an account open, it will make the process of cashing these checks easier and give you a safe and secure location to keep it stored away.
Getting Paid: For those of you who are planning to make some extra cash by working on campus, you will learn to love direct deposit. In the US most people receive two paychecks a month. With a bank account open you will be eligible to receive direct deposit, which means that rather than receiving your check then having to go into a bank to cash it, your money will go straight to your account on payday.