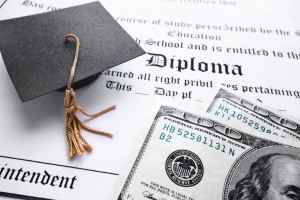 Many colleges in the United States are making a big push to recruit international students to come and study. The sad truth is that this isn't always an effort to diversify the campus. At some colleges, this is done to bring in more money. Unfortunately, international students often pay a lot more than U.S. citizens for the privilege of attending university thanks to fewer resources at their disposal.
Hope isn't lost, however. While foreign students are at a disadvantage, financial aid is still available in different forms if you're willing to look for it.
Merit-Based Scholarships
Tuition in the United States can be outrageously expensive at more than $50,000 a year. As shocking as that price is, discounts can be had through merit-based scholarships. According to U.S. News & World Report, 375 of ranked universities offered scholarships to international undergraduate students in the 2013-14 school year. The average amount of these scholarships was $18,790.
Some of the most generous scholarships came from the most prestigious universities in the country, such as Yale University – $56,630 average in aid to 349 students – and Harvard – $51,854 average in aid to 540 students. Read the rest of this entry »