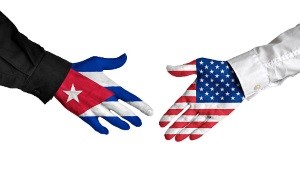 As globalization continues, so does the opportunities for international and cultural exchange. In the past month of October, The Institute of International Education participated in a historical event which allowed representatives from 12 U.S. universities to travel to Cuba to learn more about its higher education system and to explore what opportunities may exist for future partnerships. The delegation, comprised of about 30 university representatives, was led by IIE´s President and CEO, Allan E. Goodman. Participating universities included Associated Colleges of the Midwest; Central Washington University; Indiana University; Lehman College, CUNY; Oberlin College; Rutgers University; SUNY New Paltz; University of Arizona; Montclair State University; University of Tampa; Virginia Commonwealth University; and West Texas A&M.
Although there have always been travel restrictions between the U.S. and Cuba, there have been opportunities for American students to participate in Cuban study abroad programs. According to the IIE´s Passport directory there are currently 25 Cuba programs available for students. IIE´s Open Doors Report demonstrated that during the 2014/2015 academic year about 1,845  students participated in for-credit study abroad programs in Cuba. Unfortunately, Cuban university students have not had the same opportunities. With political relations opening between the two countries, IIE now has a new initiative to foster partnerships between the U.S. higher education system and that of Cuba. This delegation´s trip is only one of many stepping stones that are being taken on behalf of IIE´s Cuba Higer Education Initiative .
The birth of this initiative comes after Secretary of State John Kerry attended the official reopening of the U.S. Embassy in Havana in August. During this visit Cuba´s Foreign Minister Bruno Rodrigues Parrilla addressed the mutual interest of both countries to open ¨new areas of dialogue¨ and Secretary Kerry stated that it was of great importance that as neighboring countries, the citizens of each have the opportunity to meet each other and learn more about each other
IIE´s Cuba Higher Education Initiative includes a six-month program with Cuba called the International Academic Partnership Program (IAPP). This program focuses on assisting participating universities in the development and planning process of creating relationship and partnerships with universities in Cuba. To facilitate the process the initiative has an advisory board comprised of members from all different backgrounds. This advisory board and its members are work with these universities throughout the six-months.
Be sure to stay tuned, because with the growth of initiatives, comes the creation of scholarship programs!
Already decided where you want to go? For ideas on how to pay for your study abroad program, check out our section on Funding Your Education Overseas!