You've researched the total cost of attendance, done all your calculations and budgeting, you've applied for as much financial aid as you can from your school, and you've even been awarded a scholarship – but what if you're still not sure if you can cover all of your costs?
Well, the good news is that an international student loan can help – but don't just take on a loan without first understanding what you're getting into.
What is an International Student Loan and How Do They Work?
International students have fewer options than domestic borrowers. Unless you're an eligible noncitizen who can qualify for federal student aid, you will have to borrow from a private lender, as federal student loans are reserved exclusively for US citizens.
International Student Loans are specialized private education loans that are available for international students who are studying in the USA or Canada. We recommend that you only apply for international student loans after exploring all other options like scholarships, personal funds and other options.
Undergraduate students and graduate students can apply.
A number of lenders offer student loans for international students, but most require the borrower to have a creditworthy co-signer who is a U.S. citizen or permanent resident to join the application. The co-signer will need good credit to be approved and to help you get the most competitive rates.
If you're not able to find a co-signer, some lenders do offer loans without a co-signer, but only at select colleges and universities, and you'll usually pay higher interest rates on these loans.
If you need to borrow money to help pay for university, it is important to understand how these loans work before you sign the paperwork.
Student loans typically have lower monthly payments and lower interest rates than other types of private loans, and repayment terms are also usually more relaxed. But remember that the total cost of the loan is greater than the amount borrowed due to the cost of borrowing. Most lenders don't require full payments while you are still attending school, in fact many offer a period of time after graduation before repayments even start.
The funds of your student loan will normally be paid out (disbursed) directly to your school at specific times to pay for direct university-related expenses. Funds are not usually transferred directly to the student, however any surplus funds will be paid into your nominated bank account after you have covered all of your university costs.
How do I apply for a private student loan?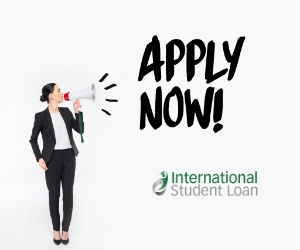 One option is to research all the private student loan lenders and fill out all their applications. This can be time consuming and frustrating, because you may find out after all that work that you aren't eligible for a loan with that lender.
Another option is to first find out if you are eligible and compare lenders using the loan comparison tool at internationalstudentloan.com/apply – it takes less than 10 seconds to find out if a lender is available for you based on your school and circumstances.
You can then apply online directly with the lender, knowing that they should have a plan that works for you.
After that, approval of your loan can happen in just a few weeks.
Who is eligible to apply for these loans?
To apply you should not be a U.S. citizens or permanent resident, and you must be attending an eligible U.S. or Canadian college or university. In most cases you must be attending full time – part time students may not be eligible. Undergraduate students as well as those taking graduate degrees may apply in most cases.
Also, borrowers are required to have a creditworthy co-signer who is a U.S. citizen or a non-citizen permanent resident for most lenders. You and your co-signer will undergo a credit check.
Loans that do not require a co-signer are available at a number of schools, and these will be shown in the loan comparison tool. If you do not have a creditworthy co-signer and you are an undergraduate student you may find it harder to secure a loan until you are within 2 years of your expected graduation date.
Your field of study usually doesn't affect your loan application, although there are special categories of loans for medicine.
Use the loan comparison tool to see which loans you are eligible for.
What can the funds be used for?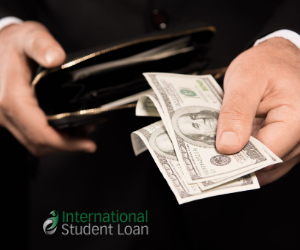 Like all private education loans, loan funds can be used for education-related costs including tuition fees, books and supplies, other school fees, insurance, transportation, room and board (living expenses) and other school-related expenses.
Speak to your school's Financial Aid Office to check their published Total Cost of Attendance which will give you an official estimate of the total amount of funding and financial aid you will need to cover all of your costs.
Application Process
Begin by using the loan comparison tool. This will show you the options available to you and allow you to choose the lender best suited for your situation and needs.
You will then apply directly with the lender. You and your co-signer (if required) will need to complete the entire online application thoroughly and supply any documents requested by the lender.

Interest Rates Explained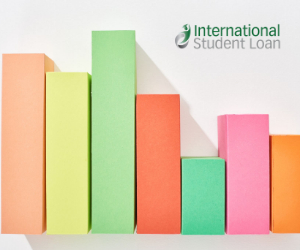 When you take out a loan through a lender, you will be responsible for paying back the amount of money you borrowed (called the principal) plus an additional amount charged by the lender for the loan known as the cost of borrowing.
This interest rate is calculated based on an "index" plus a margin that will add an additional percentage interest rate depending on your or your co-signer's creditworthiness. Every lender's range of rates varies so it is important to do the loan comparison and review the interest rate and repayment terms.
The two most common indexes used for international student loans are the Prime Rate and LIBOR Rate.
When your application is approved, the lender will provide information on your specific interest rate and you can then decide whether to accept the loan or not.
Interest begins to accrue (build up) as soon as the funds are disbursed to your school. Interest will accrue on your loan while you are in school, even if you are allowed to defer repayments until after you graduate.
Repayment Options
After you select the loan that works best for you, you will need to review the terms or contact the lender directly with any questions.
Repayment terms will depend on the lender and details of the loan you choose. It is important to consider how much your monthly payments will be, when these payments will start, and how long you may be able to defer (delay) beginning to pay back the loan (known as periods of forbearance). The repayment period typically ranges from 10-25 years, however the larger the loan the longer the repayment period.
You may be offered the following repayment types by your lender:
Full Deferral
You may be able to defer payment of both the interest and principal until up to 6 months after graduation as long as you continue to be enrolled full-time. Payments can be deferred for a maximum of 4 years – the typical length of a degree.
Lenders may refer to deferral as periods of forbearance.
Interest Only Repayments
You start making repayments while you are at school, but only pay the interest for up to 4 consecutive years of full-time study. You can then defer repayment of the principal until 45 days after graduation. With an interest only repayment type you may have to start repaying the principal immediately if you drop your course load to part-time.
Immediate Repayment
You immediately start making payments on both interest and the principal once the loan has been issued and disbursed.
What about Federal Student Loans?
Federal loans and federal student aid are not normally available for international students.
What is the FAFSA I always hear about?
FAFSA is the Free Application for Federal Student Aid. Even though international students are usually not eligible for this type of aid, your school may require you to complete the application in order to help them determine your eligibility for other funding.
What if I have specific questions about my loan?
Once your loan has been approved, if you have any questions you should contact the lender directly for support.
We really hope this helps you with understanding your international student loan!
---

---