2016 Travel Video Contest: Finalist and Viewers' Choice Winner Announced
November 15th, 2016 by Jennifer Frankel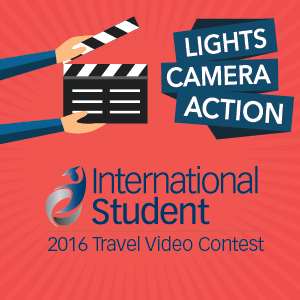 InternationalStudent.com just announced both the finalist and Viewers' Choice Award winner for the 2016 Travel Video Contest. With 159 entries from students all around the world, it was no easy decision to narrow it down to just 14 finalists.
The Viewer's Choice Award winner is Carlos Roberto Gonzalez Meyer's A Couple of MBA's who tells the story about him and his girlfriend's dream to study in Canada. Cute, funny, and inspiring, you won't want to miss this couple's upcoming adventure. Watch their video if you haven't already, and congratulate them on winning $1,000 to help make their dreams come true!
Not only will they get passed to the finalist round, but they'll join 13 other finalist for their chance to win the grand prize of $4,000. Stay tuned for International Education Week where on November 18th, InternationalStudent.com will announce the judges' winner – and if you haven't already, watch the finalist videos and let us know which one you like best.