How To Throw a Halloween Party For Less
October 18th, 2013 by Jennifer Frankel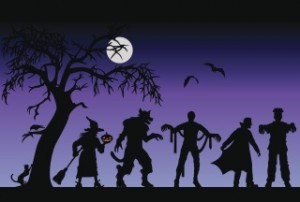 October is upon us and, along with midterms, comes the excitement that is Halloween on a college campus. After all, Halloween and college go together like "trick" and "treat" – but it can be tricky to celebrate on a budget. Between costumes, decorations, and party supplies, expenses can add up fast if you are not careful. Fortunately, we are here to help you with a few party planning tips to help you do more with less. Just follow our advice and you, too, can make your Halloween the stuff of dreams instead of a financial nightmare.
1. The Dollar Store = Decorations
You probably already know that your local dollar store is a great resource for cheap, single-use decorations – they probably had jack-o-lanterns in stock by mid September – but if you want to go the extra mile, buy some cheap plastic table cloths in plastic from the dollar store. Not only can you use them to protect your tables but you can also cover your windows by making "drapes" to add a darker, more spooky feel. You can even paint them – or enlist an art student friend – to add graveyard scenes and full moons.
2. Your Imagination = Snacks
With the walls and windows (literally) covered, here are a couple of super easy – and cheap – snack ideas for the rest of the house:
Wine "Ghoulers" – every party needs punch but instead of plain ice try this: take a plastic glove, fill it with a mixture of water and green food coloring (or even just Gatorade), and freeze it. Instant Frankenstein hands. Bring it up a notch by adding a ring to one finger before freezing.
Eye-Opening Snacks – Eyeball-themed snacks are one of the easiest (and cheapest) party appetizers you can make. Deviled eggs with a black olive in the center work great but, if you are looking for something easier, try tortellini and black olives to get a similar effect. A little red food coloring makes them look bloodshot in either case and helps add to the spooky feel!
Graveyard Cake – Take the traditional "dirt cake" (chocolate pudding, crushed Oreos, and gummy worms) and add giant spiders made of black marshmallows and some licorice. Your creativity can fill in the details but bonus points if you splurge on googly eyes made of icing!