Who Can Be Your Cosigner for an International Student Loan?
May 17th, 2013 by Jonathan Frankel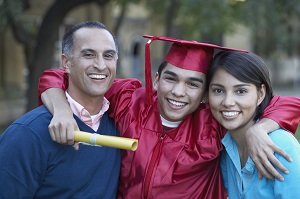 Though international students may at first consider the State Department's student visa application to be their first and last step when it comes to studying in the United States, they will soon discover that there other hurdles to overcome before they can begin their studies in the US. The reality is that funding can be an obstacle not only to be admitted into the university or college but also once the degree program has begun. When it comes to funding college, many students typically rely on personal wealth, university funding (such as scholarships), and student loans. While it's important for students to find funding they don't have to pay back, some students will turn to international student loans to help cover their funding gap. To do this, however, you should ask yourself who can be your cosigner for an international student loan?
A US Cosigner
Almost all international students are required to have a cosigner since lenders will want to evaluate their creditworthiness. At some US and Canadian schools, no-cosigner loans are available now. Since most international students do not have a sufficient credit history, lenders usually require them to find a US citizen or permanent resident that has good credit history and who has lived in the US for the past two years. For US students, while a cosigner may not be required, it can increase the odds of approval at a more favorable interest rate.
Thus not only must the cosigners have a high credit score (which indicates good credit history), solid employment or income history, they must take on the responsibility of paying back the loan in case the student cannot. Since this is a huge responsibility, it can prove difficult for students to find a cosigner.
Who you can turn to
If you are an international student or US student and you are asking yourself, who can be your cosigner, here are some people you can turn to:
Family – The best place to turn for a cosigner is your family. If you have a parent, guardian, aunt, uncle, cousin or any other family member that meets the criteria listed above, this is typically the best place to turn. Remember, international students must have a US cosigner so this may require contacting more distant relatives.
Friends – Yes, if you or your family have close friends who will agree to act as your cosigner, then you are in luck! If you've contacted your circle of friends and still haven't had any luck, you may want to ask your family members if they know someone who would act as your cosigner.
Any Adult – That's right, the rule is that your cosigner must be an adult who meets the citizenship and credit requirements. They do not have to be a family member or friend, they just have to be willing to cosign your loan. Remember, this is a huge responsibility for someone to take on so it is likely going to be someone you know or someone you have a close connection to.
>> Read on to learn how to find the right cosigner